Subscribe to our eNewsletter!
Join our popular eNewsletter list. Receive monthly updates on all the fun stuff happening in Liberty Village, Toronto's best neighbourhood.
Our 'Best of Liberty Village' Nail salons will get you feeling confident and polished in a short amount of time! We are looking for great service and close proximity for our loyal Liberty Village readers. Whether you prefer shellac, gel, french, basic, or acrylic manicures, this is your ultimate resource for the very best nail salons in Liberty Village! Make sure to bring your bestie or partner in crime and treat yourself to some serious pampering!
Location: 171 E Liberty St unit 141
Hours of Operation: Mon-Fri: 11am – 8pm, Sat: 9am – 6pm, Sun: 9am – 5pm
Contact: (647) 347-5533
Welcome to CURES STUDIO, an elegant and luxurious atmosphere located in the heart of Liberty Village. They commit to maintaining a toxic-free environment to ensure their clients are happy with their visit. Not only do they generate new and innovative techniques such as dry pedicure, but they also bring their clients enhanced and effective results with highly-skilled staff members.
CURES STUDIO offers quality manicures and pedicures that include nail shaping, cuticle grooming, exfoliation, cleansing, hydration, and finishing oil. They also offer more than nail care such as skincare, waxing, and tinting.
The gorgeous and aesthetic design incorporated with quality nail art will allow you feeling blissful. CURES STUDIO will become your go-to spot for your sweet escape.
Majestic royal blue with elevated spa equipment will have you feeling like an absolute queen.
Location: 100 Western Battery Road Suite 1
Hours of Operation: Mon-Sat: 10am – 8pm, Sun: Closed
Contact: (416) 516-3999
Lydia Nails and Spa located at 100 Western Battery Rd is a boutique nail salon in Liberty Village. Their services range from dip gel organic, bio gel, shellac, and ombre. Call to book an appointment. Walk-ins are also welcome!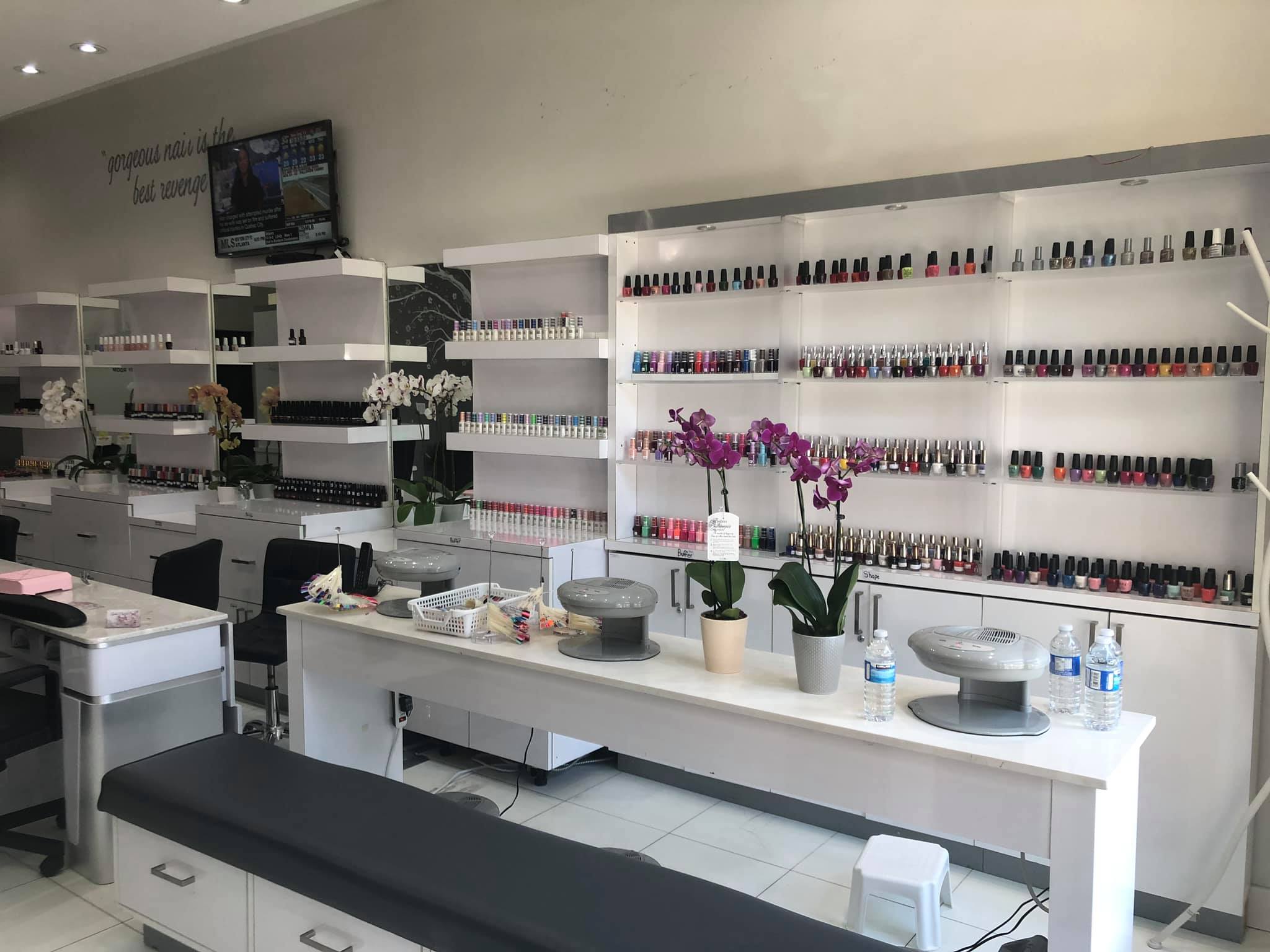 This is Liberty Village's newest nail salon and offers top-quality manicures. Enjoy comfy chairs with awesome service and get the nails that you LOVE.
Unwind your day by going to Lydia Nail & Spa, ranging from gorgeous colours and selective manicure options.
Location: 111 Jefferson Ave
Hours of Operation: Mon-Fri: 10am-8pm, Sat: 10am-6pm, Sun: 11am-5pm
Contact: (647) 341-7250
This is another boutique spa & nail salon in Liberty Village offering manicures and pedicures such as acrylic, bio gel, UV gel, waxing, and shellac. Bring your friends and relax at your community-friendly nail parlour.
This is a great place to spend your day to get you pampered and recharged for the week.
Location: 39 Mowat Ave
Hours of Operation: Mon: 11am-6pm, Tues: 11am-7pm, Wed: 10am-7pm, Thurs: 10am-8pm, Fri: 11am-7pm, Sat: 9am-6pm, Sun: 11am-5pm
Contact: (416) 889-9948
You will absolutely love the Beauty Room located in L Studio Salon, they offer a cozy and welcoming environment and features a luxurious spa and medical treatments for both men and women. Come and enjoy their manis and pedis and their additional services such as lash lifts, tattoos, injections, teeth whitening, facials, waxing and threading, and tinting.
What's unique about the Beauty Room is that they offer Japanese Gel Manicure that can come with french or ombre. They also provide shellac, deluxe, mini pedi, foot therapy treatment, as well as gel and shellac removals.
Are you ready to get beautified by the Beauty Room? Book an appointment now and come out with a brand new you! Be sure to check out their website for detailed information.
Having your nails did is similar to having a breath of fresh air allowing you to feel more together and dynamic. Beauty does the trick.