It was a night to remember indeed, when the Liberty Village BIA hosted the 13th annual Give Me Liberty After Work Party a few weeks ago. All of the right ingredients were in place for a successful event which included weather, over 40 vendors and the biggest attendance to date.
Over the years the annual street party has grown in every aspect. What originally started out as a small after work gathering in its beginning stages has blossomed into a highly anticipated yearly event. Initially it drew mostly the work crowd and employees of Liberty Village. This year, a stronger push was made to make it a truly encompassing community event. So many more residents made their way west towards Fraser Avenue to meet, mingle and enjoy the various Liberty Village restaurants and businesses.
Good Eats and Treats
The event was a perfect opportunity to sample some of the various Liberty Village eateries. Did you taste the guacamole and chips from Maizal? What about the sliders from Brazenhead? The Line Cafe was out there with a BBQ grilling up some chicken while William's Landing had some pork ban mi rolls. The Craft Brasserie offered pulled pork sandwiches and Bugigattolo Kitchen served up some classic Italian fare and delicious snacks were available from Freshii and Poutinerie. Flow Water was on hand giving out their naturally sourced alkaline water and Big Rock Brewery provided the beer.
Learn Something New
There were some informational tables and vendors on site including Cycle Ward 19 providing tips on bike safety and routes and the Liberty Village Toastmasters group educating people on their series to help improve communication and leadership and also the first ever Liberty Village Terry Fox table, encouraging people to create a team for the inaugural community event. Enterprise Carshare was present outlining the benefit of the shared car economy, Mint Chip and Anycard were showcasing their new apps, Smart Commute and Good Times Running were around. Did you get a chance to swing by the Taste of Toronto table promoting the foodie event?
Celebrating Toronto Sports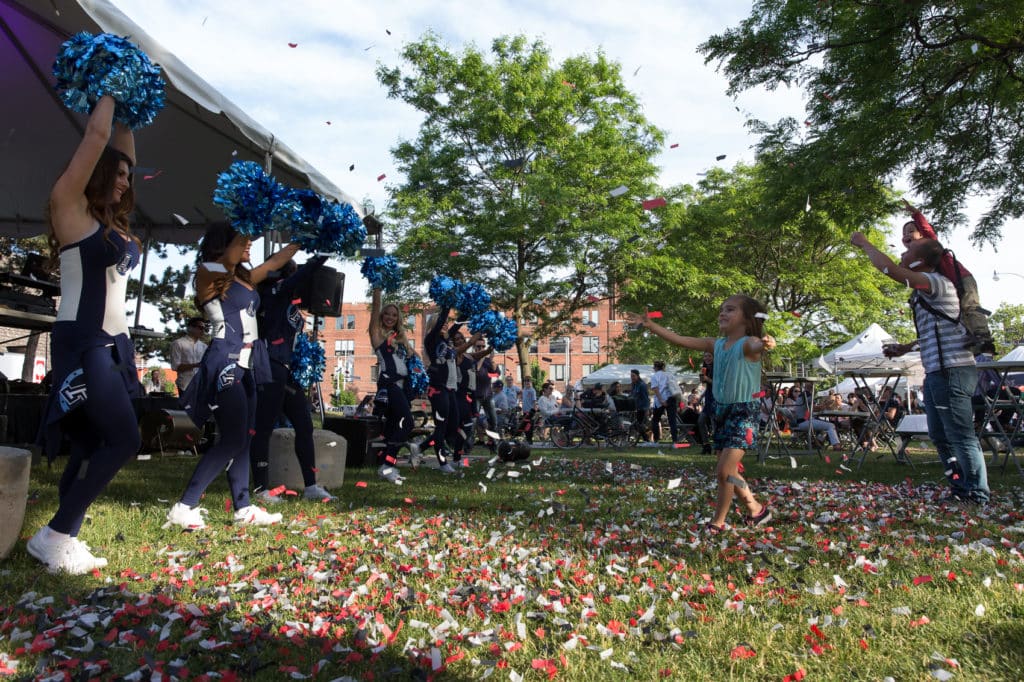 We are in the hub of sports activity and teams so it was very cool to see the Toronto Argos, Toronto Marlies, Honda Indy and the soon to be 2017 Toronto Wolfpack on site. With BMO Fields just a stone's throw from Liberty Village, we are very lucky to be able to have these types of opportunities in our backyard.
Support Local – Know Who is in The Neighborhood
Many local businesses had a presence at Give Me Liberty. Sometimes, we become so tunnel visioned, getting from point A to point B that we forget what amazing businesses that are in our neighborhood. This was a great opportunity to find out more about the retailers, services and event technology in our community. Hopefully we will all be able to start patronizing them going forward. Home Hardware, V.O.C., Pet Valu, Body in Tune, Pearl Vision, Cures Studio, Liberty Village Eye Care, Nadia Lloyd Designs, Maz Studios, Sparks Salons, Meridian, Romancing Your Brand, and Goodlife Fitness.
A Big Thank You to the Sponsors!
Give Me Liberty would not have been possible without so many of the sponsors. Many of Liberty Village's amazing property owners were a part of the sponsorship which included the Dufferin Liberty Centre, Abe Gitalis Real Estate, Toronto Carpet Factory, First Capital Realty, Kevric Real Estate,  Hullmark Properties and The Fueling Station. Other notable and great community business sponsors included Beanfield, Brazenhead, Sage Wow, Stature Films, and Meridian. A couple of Toronto sports teams were kind enough to also sponsor including the Toronto Argos and Honda Indy Toronto.
Can't wait for the 2017 Give Me Liberty!