"Success isn't always about greatness. It's about consistency. Consistent hard work leads to success. Greatness will come." – Dwayne Johnson
Whether you are an employee working remotely, a writer meeting a deadline, an entrepreneur building a business empire or a student cramming for your next exam – you may be looking to spend less time in a conventional office/study space. We would love to share some of the best work/study spots in Liberty Village. Some you may already be aware of but there are some hidden gems here.
If you are all about that hustle life, this is the article for YOU. Are you ready to check off the next to-do list on your agenda?
Location: 43 Hanna Ave unit 123
Hours of Operation: Mon-Fri: 7 am-7 pm, Sat-Sun: 8 am – 7 pm
Contact: (416) 534-7372
Balzac's coffee is all about the 1950s vibes, they furnish the space with sleek touches such as a zinc bar from Paris and custom-made Art Deco floor tiles to reflect a vintage feel. The environment is airy and spacious and offers lots of workspaces.
You will be AMAZED by their menu! They offer Oat Milk Cookie Latte, Peppermint Mocha, Salted Caramel Latte, and homemade ready-to-eat pastries! You will find yourself indulging in these delicious treats.
This beautiful cafe is located near the Toy Factory Lofts and certainly attracts young working and urban professionals. This is by far one of the best work/study spots we recommend you go!
Not only does Balzac serves great coffee, but they also commit to reducing the environmental impact in their operations. Their ethical duties allow them to become a certified green restaurant and they were the first coffee company to become certified with LEAF.
Location: 85 Hanna Ave
Hours Of Operation: Mon-Fri: 5:30 am – 10 pm, Sat: 6:30 am – 10 pm, Sun: 6:30 am – 9 pm.
Contact: (416) 538-6818
"That first sip feeling."
The legendary Starbucks is located at the corner of King St W and Hanna Ave, and it's one of the most popular and nostalgic cafes to study & work at. Enjoy their classic Americanos, Oat bars, Frappucinos, and Matcha Lattes – you really cannot go wrong with this cafe. Did you know that Starbucks offers free coffee and tea refills? If so, this is your time to take advantage of what Starbucks has to offer!
Liberty Village Market and Cafe
Location: 65 Jefferson Ave
Hours of Operation: Mon-Fri: 6 am – 9 pm, Sat-Sun: 7 am – 6 pm
Contact: (416) 530-0477
Liberty Village Market and Cafe is a niche and hybrid cafe combined with a grocery store. Their environment is exceptionally cozy, and it's a perfect place to order lunch and takeout! If you're a fan of homemade sandwiches, wraps, and soups, this will be your next destination.
Don't panic, it's organic!
Their selection of organic coffees and homemade chillis is everything you can ask in this cold sweater weather. Bring your laptop, your favorite knitted sweater and enjoy what this local restaurant has to offer!
This is a comfy environment to be productive while taking you back to your grandma's kitchen.
There's a variety of drinks and snacks for you to choose from. Meanwhile, this is another cafe that reminisces on a vintage atmosphere.
Location: 80 Western Battery Rd unit 1
Hours of Operation: Mon-Fri: 7:30 am – 8:30 pm, Sat-Sun: 8:30 am – 8:30 pm
Contact: (416) 901-2109
Liberty Coffee Bar offers high-quality coffee serving both hot and cold drinks that are complemented with pastries and Mediterranean food for fellow Liberty Villagers! The interior space offers an airy work environment while providing you with great customer service.
Location: 171 E Liberty St Unit 127A
Hours of Operation: Mon-Sat: 8 am – 4 pm, Sun: Closed
Contact: (416) 535-0545
Garden Gangsters is one of the coolest places for people who are driven for betterment and self-improvement. The restaurant provides modern dining and it's a perfect spot for studying/working while offering healthy meals that will feed your brain!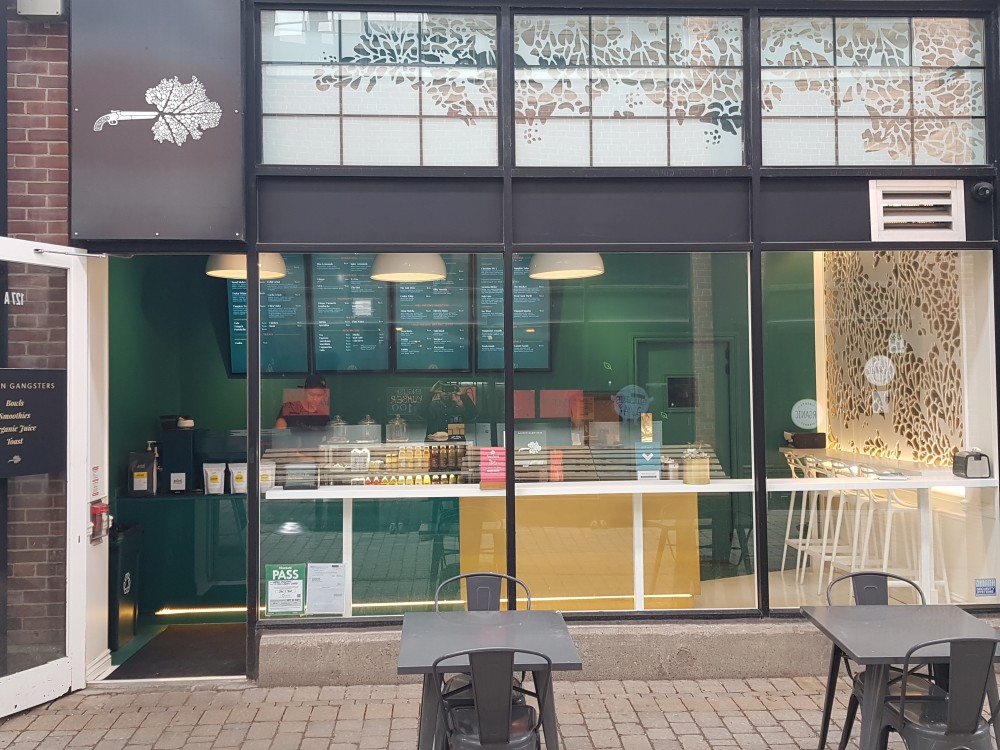 With nourishment comes creativity.
Located in the heart of Liberty Village, the restaurant offers a healthy environment to work at. If you want to fuel your body with light and lean food, this is your landing point!
Come and nourish your body with Cheesy Cauli Toast, Harvest Bowl and Masala Love. These options might just be what you need to clear your mind.
Location: 1187 King St W
Hours Of Operation: Mon-Fri 7 am – 6 pm, Sat-Sun: Closed
Contact: (416) 583-1627
Louie Craft Coffee was established by two sisters who came from different worlds, their idea was to create the perfect cup of coffee while emphasizing that it's the little things in life that people love. Their high-quality coffee beans are locally grown to provide their customers with fresh local coffee.
Unite with your fellow community members at one of the top cafes in Liberty Village. Whether you are working or studying, this place is one to be in!
A bright and modern working area with ready-made sandwiches, pastries, and Greek Yogurts that will satisfy your tastebuds.
The cafe contributes to the vibes of King Street West, reminding you of the liveliness and energy that it generates.
Location: 85 Hanna Ave #104a
Hours Of Operation: Mon-Sat: 8:30 am – 8:30 pm, Sun: 12 pm – 6:30 pm
Contact: (416) 516-0100
Do you enjoy bowls, burritos, salads, wraps, soups, smoothies and juices? If so, this will become your ideal study/workspace accompanied by a healthy menu. You cannot go wrong with Freshii as their food is not only appetizing but it is super nourishing and packed with lots of vitamins.
If you prefer to study with smoothies and fresh fruits over coffees and pastries, Freshii will satisfy your cravings. The interior area is spacious and offers lots of tables to study. Get ready to cross off the next to-do list on your agenda.
Comment below your favourite work/study spots in Liberty Village. We love to know!
"Success is no accident. It is hard work, perseverance, learning, studying, sacrifice and most of all, love of what you are doing or learning to do." – Pelé, Brazilian football legend.