Liberty Village has a lot to look forward to. Things are looking up for local foodies who share the belief that Liberty Village deserves a better standard of eating.
For many years, the only dining Liberty Village offered were the cheap and cheerful lunch spots catering the dozens and dozens of media, communication and web
companies dotted throughout. Best suited for a quick lunch break, those hankering for a dinner option were pretty much out of luck. Things have changed and dinner options now exist.
Mildred's Temple Kitchen was one of the first recognizable foodie destinations to offer something more. Known for a great brunch, Mildred's also appeals to those looking for well-executed  country and modern classics. A few years ago, The Brazen Head Pub opened to much fanfare, especially for the thousands of soccer fans flocking to Liberty Village for Toronto FC games. There are a handful of sushi and Korean offerings but the one that seems to get the most attention is Raaw Sushi in the Liberty Market building. Their modern twist and quality fish hasn't gone unnoticed.
In a similar vein to Mildred's Temple, Brad Moore's School got a lot of press when it opened on Fraser Ave. Offering new American bistro and classic comfort food, School has a loyal brunch following and lunch crowd. They are heavily promoting their dinner menu in the hopes of turning School into a busy dinner destination.
Recently, I have been hearing buzz about Bar Vespa. A sleek and modern restaurant next to The Brazen Head (and with the same owners), the menu consists of Italian classics (Pizza and Pastas) and small sharing plates. The Globe and Mail's Joanne Kates proclaimed that  Bar Vespa was "a restaurant worthy of the tastemakers in the area". You can read the good review here. Other notable openings? Primely patio'd Williams Landing and Aroma Espresso Bar, the rapidly expanding Israeli-based coffee house. I'm actually a big fan of their  all-day "Power Breakfast".
I'm definitely curious to see what opens in the recently-closed Cinqucento Trattoria in the Shops at King – Liberty. Prior to Cinquecento's stint there was the short-lived Carole's Cafe and Kitchen. Does anyone remember Carole's Cafe and Kitchen? I didn't think so. That particular location has had a tough time even though it is highly-visible and has a good amount of foot traffic. I am very curious to see what opens there next and hope it will have better luck.
A string of closures has given Liberty Village a bit of a "restaurant graveyard" reputation. Liberty Belle, Liberty Bistro and Liberty Noodle all closed their doors in late 2011. A sad tre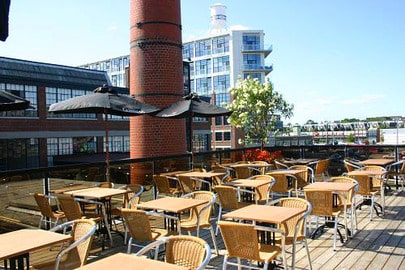 nd with one big ray of hope shining through. Claudio Aprile, the respected executive chef and owner of popular Colborne Lane and Origin, has recently announced his plans to open a new Origin in the Liberty Market Building! Origin Liberty has taken over the space formerly occupied by Liberty Noodle and is scheduled to open in April 2012. This is tremendous news for local foodies and I am sure that this restaurant will attract locals and non-locals alike. This will become a destination restaurant in Liberty Village. It would be great to see others too.
Liberty Village definitely has a lot to look forward to. With 8 more condos under construction and scheduled to finish in the next year or two, there will be many more hungry mouths to feed. We will keep you posted here on all new openings and stay current with our Liberty Village Business Directory.
Michael